This morning, I woke to this, as Christian, Mattias and SR slept peacefully. This is our back "yard" for the next five weeks- the ice-covered Lake Superior border between the US and Canada. It seems like good place to finish the writing of my dissertation and perhaps go for a run or two.
I could write many blog posts about returning once again from Denmark to the US. Psychologically, it is always hard for me and I know it is harder on the kids, yet they don't ever show immediate signs of disquietude.
That being said, change is also always exciting and healthy. And most of all, it is wonderful to be back together with SR. He took this picture of me on the still snowy trails of Minnesota Point this morning.
Before he took this picture, SR was saying in disbelief that they (irunfar) had "forgotten" to add my name to the
list of favorites for the Ice Age Trail 50
. Let me put it this way- I would much rather run a great race than be listed on the potential favorites and not run well (as I finish off this post, I was sent an apology from Meghan Hicks about omitting my name from the list- She is so classy and sweet and one of the reasons irunfar is so successful - whether or not I belong on that list). The name that really sticks out to me as being hard to beat is Kaci Lickteig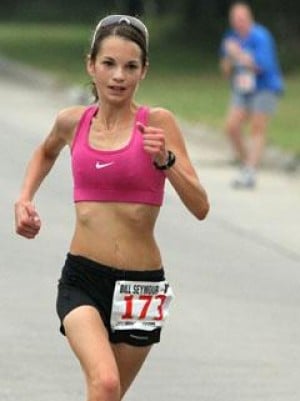 From Omaha, NE, Kaci has a 99.0% rating (has run 10 races) on ultra signup of. Beating her would require her car breaking down on the way to the race or something similar. Yet, knowing me, I will start out trying to keep up with her.
After Kaci, there is a longish list of other women who can easily run 50 miles faster than I can: Larisa Dannis, Stephanie Weigel, Maddie Hrybar and Alisha Damrow to name a few.

In the mens' race I am hoping the podium will include the following: Zach Bitter, Mike Borst and Chris Rubesch since they are local favorites, strong runners and good guys!
It will be really fun for me to run in such a competitive ultra. It is not something I have much experience with. And honestly, I do not know what time to aim for. It seems I have continued to get faster all spring. A 5:14 60k on tough trails makes me think I should aim for a sub 7:30, but that sounds unrealistic. Let's call that "the ultimate, everything goes perfectly" goal. Goal number 2 would be sub 8. Goal number 3 is PR. I feel like if I do none of these that I am injured or puking because IAT is an easier course than Glacial Trail where I ran my 8:38 - as long as it doesn't get too muddy. And the truth is, all trail ultras necessitate you obeying the conditions and just running the best time you can that day.
The Ice Age Trail has lovely views and is 100% off asphalt :-). This photos is overlooking La Grange Lake, by Amy Courts.
Course map.
The course is a loop and two out and backs. In essence
A Pippi Longstocking-shaped route
I ran a bit of the Lapham Peak section of the Ice Age Trail while I was visiting my parents and there were really good running conditions. Slightly muddy, but not bad. I think I will wear my Salomon Sense and not the Sense SG.


I have to thank SR for offering to crew me at IAT. It means a lot to me. I really like it when we have shared projects and he is really, really good at crewing. He has an uncanny sense of where I am and when I will arrive at certain points. Somehow he also seems to like assuming the role of the obedient servant; for those who haven't spent time with us, you should know he never calls me "Tracy" but always "My Lady", which initially I imagined was because Tracy is such an awkward name to say with a Danish accent, but it has just stuck. If I call him "My Lord" in Danish, it sounds like I am calling him excrement, so I just go on mispronouncing his first name and everything is jackanory.
So, I am well aware that what has slowed me down at the end of all my ultras over the last two years has been my "hip". That stupid pain in my entire right leg - often going up to my right shoulder and down to my foot.
My pain started to get worse again after the long flight and the 6k race on Saturday (see below), until I went to
Holistic Path
in Duluth and got a 90 minute full body massage. The amazing thing was- she noticed my IT band was adhered like glue to my knotty vastus lateralis (where I had indicated the problem was coming from) and suddenly I realized my problem was very, very close to classic ITB syndrome (in Danish "løberknæ") except rather than pain in my knee, it was pulling on my gluteus medius and creating pain above the IT band. This also fits with stair climbing making the problem worse.
I think you can see how form this picture how the vastus lateralis adhering to the IT band could pull down on the gluteus medius.
But I found
this article
fascinating, describing how an inflexible ankle or anterior pelvic tilt (I have both of these) can cause the IT band and piriformis muscle to tighten. It is very, very complex, which is why physical therapists and physiatrists have cool jobs! Figuring out what came first is a challenging puzzle, which has now taken me 2 years to try to solve and I still don't have the full answer.
But that didn't stop me from feeling awesome after the masssage.
When my hair gets really curly, it usually means I am happy.
And the lake and sky sure looked beautiful on my completely pain-free run afterwards.




Otherwise, the timing of this taper week falls perfectly with maximum adventure time with the boys.
Goal of finding all the penny pincher designs in Duluth. Location: Grandma's Bar and Grill.
Christian at the Duluth Aquarium (cool floor, huh?)
Yay! 1 degree celcius.
Spongebob at Sunrise
I also ran a quick race the morning after I arrived- a 6k to raise money for clean water in Ethiopia. This was organized by
ComeUnity
.
I actually won for the men and women in 22:31 for 6k. That must have been around a 18:45 5k and then 1 more km! Felt great to run a 5k PR and keep going, though no official splits of course; just for fun.
The people of Duluth are just really nice! The second and third place women came right up to me after the race and started chatting away. And why am I so tan? Very nice that I inherited my dad's pigment which causes me to look jaundiced after I have been in the sun. I also inhereted my dad's arm length since I compared my arm span to my mom's -- she is over 4 inches taller than me and my arm span is 3 inches longer than hers! Woah!? How fortunate I am so ape-like.
Now - two questions:
1.
If you could design an energy bar
, which ingredients would you want and what percentages carbs, fat and protein? I have been offered the opportunity by coach Ole and
32gi
to help come up with a couple recipes for myself (and others?). Right now my ideas are - all natural, gluten free; one for long runs and racing which is higher in carbs and one for maintanance which is very low in carbs. I am looking at lärabars and clif builders bars for inspiration right now. I have great luck with Clif Builders and they use soy protein isolate, flax sed as well as beet juice, so why not go with it?
unsweetened chocolate, nuts, coconut, raisins, and dates, sesame seeds and oil come to mind. which are probably other good options. Kind of a fun project!
2.
When should a runner start training for a marathon?
I have been asked this question by an athlete who has recently started to run 6-8 miles once per week and also does regular speed sessions. My inclination now is running is like playing the piano or any other skill- learn the basics first and work up through 5k, 10k and ½ marathon races first. Why slug through Rachmoninoff when you can't play a little etude? I personally jumped right into a marathon as my very first race in 2004 - ran it is 3:42 - after never once trying to run fast - and about 25 different tendons in my body were injured afterwards for 2+ months and I could not run and I was miserable! Ha! Would love your opinions since I think it is an interesting question and if one is able to run the marathon slowly enough, one probably could run a marathon a lot sooner. I personally wished I had focused on speed and technique
before
distance. I have to go back and learn the basics now, which is seems a lot harder.