Allow me to lash out for a second- against the culture of non-learning. Against the culture of social media, which values in your face half truths above teaching and learning.
I had an outstanding English teacher at UW-Madison who said "Every time you write something, ask yourself why you are writing it and what your audience will get from reading it". That principle has stuck with me. Sometimes I forget it, but I probably think of it on average once a day.
Don't get me wrong, you don't need to explain the Pythagorean Theorem every time you write, or anything scientific, mathematical, tangible or practical. Maybe it is a feeling, way of thinking or explaining something in a way that most people don't, because your viewpoint is different. Or maybe it just sounds really good.
Today, I interviewed at Johns Hopkins for a residency position. To a "young" physician, this just kind of seems like a big deal. Johns Hopkins is the biggest
name
in medicine in the United States and arguably in the world. Why? (and if they really are THAT great, why did they offer ME an interview?)
So Johns. You know who he is, right? Good old Johnny Johns Hopkins. Up until today, I had thought that there were two doctors: Dr. Johns and Dr. Hopkins. Nope. One guy: Mr. Johns Hopkins. Nice first name, isn't it? (embarrassing, I didn't know this, right?).
He was born in 1795.
He was the owner of (among many, many other things) the Baltimore and Ohio (B&O) Railroad (of Monopoly fame) and the game Monopoly may in fact be based on his life (this is at least my theory) - and this is Christian's favorite board game right now. He (Johns) won the game, you could say. And he was the quintessential self-made man. But what made Johnny Johns so special was he gave all of his money away to good causes. He was a Quaker and this was an important tenant of his faith. This other important part was he could not marry his cousin, even though she was the only woman he ever loved, so he never had kids (which of course may or may not have anythingto do with his faith). Anyway, the money he gave to start Johns Hopkins University and Hospital was "by all accounts, the largest philanthropic bequest ever made to an American education institution" (nice quote from Wikipedia, with no source).
But then there was this guy from Ontario named William Osler. And it is THIS guy who made the Johns Hopkins School of Medicine so famous (or was it Harvey Cushing who wrote William's biography? - you know, the first guy to stick a knife into a living person's brain with the intent of curing them). Osler established what is the modern day "residency" training in medicine, where young physicians in training sleep at the hospital - "round" on patients (his term). Basically he had this revolutionary idea that one could learn what a patient's disease and diganosis were by talking to them and looking at them. My favorite quote of his is "listen to your patient, he is telling you the diagnosis". It seems so inane that this is my favorite quote of his when it is so freaking obvious- but guess what? Doctors don't do this anymore.
And so, I felt today, in some way, that medicine is coming full circle. Where innovation is not necessarily about the amazing 128 slice CT scan, but learning to listen and examine so health care dollars can be saved and people can be saved of cancer-causing radiation, among other burdens of modern medicine.
Yeah, I was asked today how I thought health care costs could be cut. Being asked this question said a lot (of good things) about Johns Hopkins. I said two things 1. holistic medicine: diagnosis made though history and physical and treatments that are non-harmful, based on unbiased research (not funded by drug companies). For example, acupuncture can work better than opioids. It is the drug companies who manufacture opioids that have beendriving physicians and the public to believe otherwise.
2. Health comes through living in a healthy society. If America wants to cut health care costs, exercise needs to be a part of daily life (walking, biking to work), healthy food needs to be affordable for everyone and poverty needs to be reduced.
And that's why Johns Hopkins is STILL cool. Because they are leaders, wanting to initiate change that works. And they are affiliated with the National Institutes of Health- the best funding source for non-biased research in the US; where money comes from public funds.
And why is it that Americans are so gosh darn opposed to giving tax money going to these public funds? To research, health care, reducing poverty, creating safe bike lanes, etc. etc??
But I am sugar-coating my experience for no apparent reason other than "it sounds good". The applicants: we are all dang tired. It is common knowledge among Physical Medicine and Rehab applicants that you need to interview with at least 10 programs to be guaranteed to "match" anywhere. It is crazy. The specialty has become super competitive in the last two years And we're all standing there thinking "just tell us how often we're on call, how hard our work will be and what the exact work hours will be and oh- if we'll like living in Baltimore". You know, we are all just humans of course.
And I hate travelling to all of these interviews even though I learn so much about the speciality of PM&R as well as medicine in the United States - and I want to make an educated choice about where I train. I miss being with the kids and SR. When SR encouraged me to apply to PM&R, I didn't know if I could do it- enter this world again, but I miss clinical medicine and the pursuit of knowledge, change and ideas - and mostly patient care- so much. It really suits me. The path to stay-at-home momness is paved in the US. It's practical and affordable. But I'm used to the Danish model by now where no familes can afford stay-at-home momness.
So why not stay Denmark, right? Well, if I get specialty training in the US, I will be able to work in both the US and Europe, but not vice versa. There is also no dedicated field of PM&R in Denmark.
Oh, by the way, I have a new job in Denmark in the Department of Clinical Biochemistry! That's why I'll be going back in two weeks. If Denmark offered double citizenship, life would be a lot easier and SR and I wouldn't need to live this double country life all the time just to meet the requirements of our residency permits-- get with the double-citizenship program, Denmark.
BTW - the above blog post is what happens when I am stuck waiting at BWI airport for a 3 hour delayed plane to Minneapolis.
But look at the design yourself salad I got at the said Baltimore airport!
and the salad's point of view.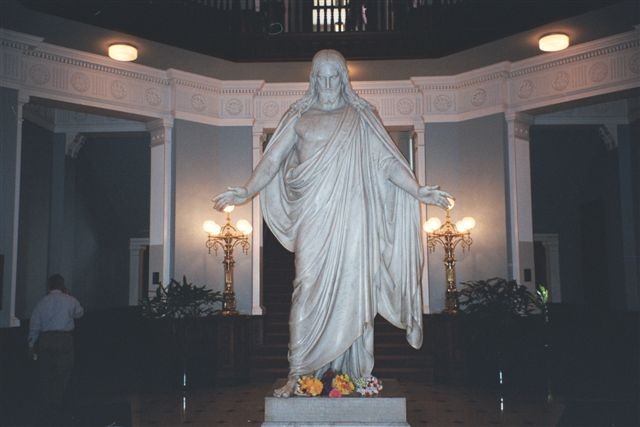 The statue at the entrance to Johns Hopkins hospital. See, I thought it was Jesus because of the sandals, but I guess it is actually God. There was a teenager standing there writing a long message that started with "Dear God" in a large, guilded book as we applicants walked by.
Oh, if you are interested in follow-up from my last post about health issues in the endurance athlete, I am doing a podcast with
Elevation Trail
on Tuesday about the topic! I'll let you know when it is out. In the meantime, go to the link for some outstanding listening: (I highly recommend the episodes with
Jill Homer
and Rob Krar).
And I have never enjoyed winter so much. The cold is pristine and the running gorgeous.Thank you Leslie Semler for an "I will kick your ass, SeaLegsGirl" run at Hartley Park. SR and I have also been hitting the x-c ski trails basically every other day. Suddenly winter is my favorite season. Yay, Duluth.
Song for running in the cold: Harrison Ford by SSLYBY (Someone Still Loves You, Boris Yeltsin)
"Pretty eyes, you don't have to be good"